AUTO HAIL REPAIR ESTIMATE

Fast, free and friendly estimates are just a phone call away.
Immediate Appointments available.
Stop guessing or getting the runaround.  If you have Auto Hail Damage or need a Paintless Dent Repair estimate, give us a call and we'll get you in at your earliest convenience for a free estimate.  After a complete inspection, we will be able to provide you with an accurate estimate without any hidden costs or added fees.  We can do an estimate quickly while you wait without the hassle.
A visual inspection is necessary for an accurate estimate.
Just looking for a ballpark estimate?  Please use our Online Paintless Dent Repair Estimate Calculator.  Just follow the directions on the form and fill out all the necessary information. Once we receive the information, we will go over it and contact you.  Please make sure your contact information is accurate. Click below to be taken to our PDR Estimate Calculator.
Free Valet Service - Pick up & Drop Off
6260 W 52nd Ave #112
Arvada CO, 80002
(720) 422-9920
11450 Huron St. Ste. D
Northglenn, CO 80234

(303) 451-5536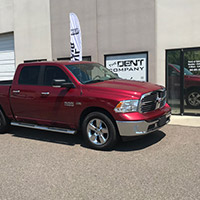 Contact Us/Book Appointment Online
We respond quickly...Usually within the hour during business hours.